Any data in the palm of your hand
Have you ever thought about having any data you need in the palm of your hand ? In any way you like it ? Anywhere you are? Even off-line ?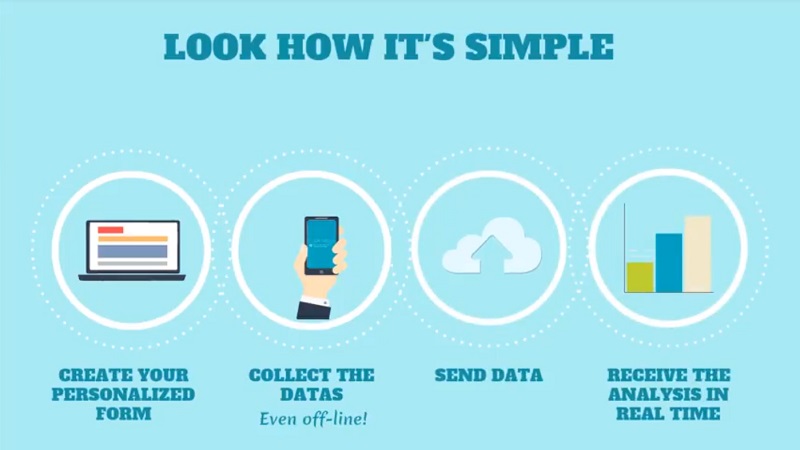 (for better experience, turn on the sound and switch to full screen)
Create your form
Make forms quickly and easily with any tool: text, numbers, evaluation scale, photography, geolocation, customizable sections formatted according to the user's choice, and much more! Everything can be customized and there's no need for coding knowledge, you can have your forms with either your brand's identity or your client's, it's your choice!
In addition to all this easiness, the creation of your forms comes with the sophisticated and intuitive navigation logic that makes your form much smarter, avoiding unnecessary repetitions and unwanted responses. More...
Create my first form
Templates
HashData provides you with various form templates according to areas of interest.
Functionalities
The best platform of knowledge generation
Easy and Fast
No previous knowledge of the tool is demanded. Hashdata is very easy to use. In addition, the system presents excellent performance and navigability.
Responsive Layout
It adapts to the screen of your device, making it possible to be used on smartphones, tablets, laptops or desktops.
Safe
All your data will be well protected with the most advanced encryption technologies available.
Customizable
You choose the key features of your forms, from creation to the resulting analysis.
Works off-line
It's possible to fill forms via the application, available for Android and IOS, even without an active internet access.
Smart
It has a navigation logic that is both easy and sophisticated, making your form much more efficient.
Teams and Sharing
It is possible to create and manage your work teams with multiple users, establishing the level of access of each one. In addition, you can share graphs and data with members of your team or with external members: customers, partners, etc.
Instant, Individual and Global Analysis
The analyzes are performed in real time and, thanks to the filters, it is possible to establish correlations of analyzes of a single individual and their development over time, or global analyzes considering all respondents
Video Tutorials
In case of doubt while using Hashdata, there are step-by-step tutorial videos explaining how to use each of the tools available in the system.
Uso Colaborativo
Planos gratuitos para organizações sem fins lucrativos
É possível utilizar gratuitamente o Hashdata, caso a sua organização seja sem fins lucrativos e desempenhe atividades que contrituiam à melhoria das condições de vida de populações vulneráveis ou desempenhe ações relacionadas a: meio ambiente, fortalecimento democrático, saúde, educação ou cultura. Para mais informações, entre em contato conosco pelo e-mail: contato@hashdata.com.br
Register Now
Contact us
Ask questions, talk about the needs of your project, make suggestions, etc.
All service channels below provide assistance in
Portuguese

and

English